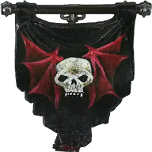 NEW
RECRUIT

Build your army lists for
The 9th Age and more!
Click here to try it now!

A powerful builder for The Ninth Age
New Recruit is an army builder for The IX's age Fantasy Battles.The core functionnality of New Recruit is an algorithm that dynamically checks the validity of your army list as you create it. All rules, unit or item restrictions are accounted for, and New Recruit will not let you create a list that is not 100% valid. If you try to make a change that would break a rule, New Recruit will either prevent the change with a warning telling you why, or often automatically uncheck an other conflicting option to keep your army list valid. This makes army building smooth and intuitive.
If you encounter any problem with New Recruit (such as incorrect point values for an option), please report it on this thread on T9A's official forum: T9A forum for NR

Warhall Integration
Warhall is an amazing 3D tabletop simulator, designed for wargaming, and The 9th Age in particular. It is currently in Alpha Stage. More information on the Official Warhall page
Recruit is integrated in Warhall so you can simply log in to New Recruit in the game and immediately access all your lists. More New Recruit features will be integrated into Warhall in the future.

A free Army Builder
New Recruit is free with no adds. You can start using it immediately, you do not even need to sign up or create an account! You can create an account if you choose by accessing the menu. An account will allow you to easily synchronize your army lists between different devices (a phone and a computer for example) in just one click.

Works as an app or in your browser
New Recruit is a Progressive Web App. You can install New Recruit as an app and have an app icon your desktop, or smartphone. If you chose to do so, an app icon will appear on the desktop of your device and you will be able to access New Recruit using this icon. The nice thing is that, when used this way, there is no more browser navigation bar which can be nice on a phone with a relatively small screen. Recent browsers will ask you if you want to install New Recruit, or you will be able to do it in the browser's menu. If your browser does not support this, no problem, you can still use New Recruit like a normal site.

Seamlessly accessible from all devices
As a progressive web app, New Recruit stacks the advantages of applications and websites. Since it works in the browser, New Recruit works on any platform that has a web browser, be it a computer, a tablet or a phone. It is optimized to fit nicely to all screen sizes and take advantage of the available space as best as possible.
You can easily synchronize all your army lists across all devices. New Recruit has a synchronize button that will send your lists to the server and download any list you synchronized before on an other device.

Accessible offline
When you access New Recruit for the first time, New Recruit is automatically "installed" in your browser's cache. Don't worry it takes less than 2MB of space and can be removed in your browser's options or in the New Recruit menu. From there, you will be able to use New Recruit at anytime, even if you are not connected to the internet. This feature works on all modern browsers. It might now work on older smartphones with out of date browsers.
Up to date Armies (version 2021)
Last update: october 2021